Brno: A Thriving Hub for Business Growth
Nestled in the heart of Europe, the city of Brno has earned its reputation as a dynamic hub for business growth. With 24% of its business centers boasting more than 500 people, a vibrant network of university centers, and robust government support, Brno stands as a strategic powerhouse in the development of Czech business services.
These are some of the reasons why we decided to open a new office in Brno back in 2022, and this is why so many companies are doing the same or expanding their existing operations.
It is only fitting, that ABSL Czech Republic has decided for their 10th Annual Conference the vibrant setting of Brno as the venue for their flagship event, this year more than ever packed with valuable insights from industry leaders.
2 intensive days, over 500 attendees and more than 80 speakers filled the halls and rooms of the Marriot hotel in Brno.
Damas Engineering had a strong presence this year, with a delegation of 5 senior leaders, including our CEO Alessio Colantonio, President & Founder Luca Matrone, Country Head for Turkey Levent Kececi, Head of Software Strahinja Lekic and Senior Engineer Miodrag Stojanovic. This also meant that 4 out of our 5 locations were represented at the conference, a great opportunity to share knowledge and insights.
There were plenty of illustrious guests and interesting topics to pick from.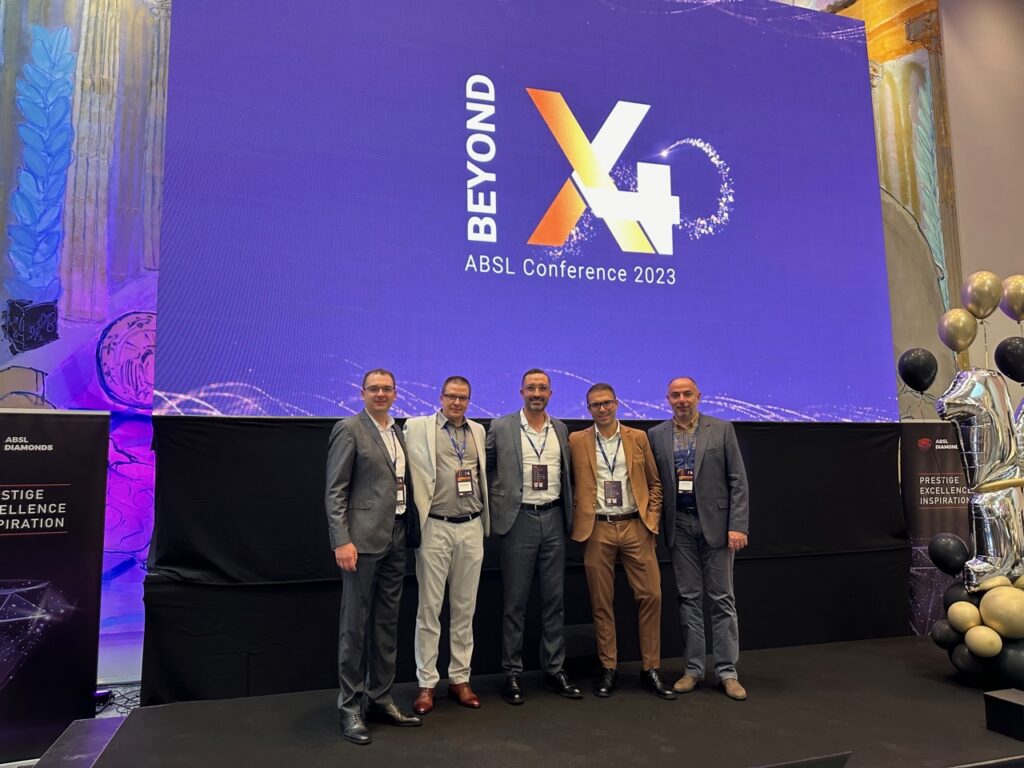 Insights from Danuse Nerudova: Shaping Brno's Tech Hub Status
One of the distinguished influencing people, Danuse Nerudova, a former candidate for the Czech presidency and a member of the EU Commission, shed light on the pivotal role of Brno as a burgeoning tech hub, and the Czech economy at large. Recognizing its strategic importance in Czech business service development, Ms. Nerudova shared views and support for the city's potential to drive the necessary innovation and serve as a cornerstone for technological advancements, very much a priority for the continued growth of the Czech economy.
Keynotes Unveil the Power of AI in Business Transformation
The conference served as a melting pot of ideas, bringing together industry leaders and experts to explore the transformative power of the latest AI technologies in modern businesses. The keynote speakers delved into the role and significance of artificial intelligence in the digital transformation landscape, unraveling insights that are set to redefine the way businesses operate.
Tech-Driven Business Transformation
The keynotes underscored how IT especially Ai is no longer a futuristic concept but an immediate catalyst for change. From enhancing operational efficiency to revolutionizing customer experiences, the speakers highlighted the myriad ways in which IT is reshaping the business landscape. Attendees gained valuable insights into the practical applications of leading new IT tech, equipping them with the knowledge to navigate and leverage these cutting-edge technologies.
The myth of expensive digital transformation
Our CEO Alessio Colantonio delivered a keynote on how to improve the ways of assessing ROI on digital transformation and IT projects and, more importantly, how to go a step further and transform your digital transformation into a profit-making endeavor. He presented a case study where a Damas team supported one of our clients in monetizing their digital transformation and improving their value proposition.
We are soon going to be releasing more content with regard to the keynote, so watch this space if you want to learn more!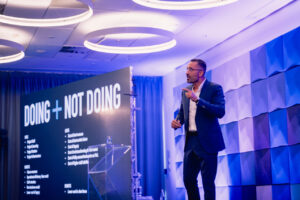 Networking and Collaborations
Beyond the informative sessions, the conference provided a unique platform for networking and collaboration. Industry professionals, entrepreneurs, and innovators converged to exchange ideas, forge partnerships, and explore avenues for collaborative growth. The vibrant atmosphere at the event reflected the shared enthusiasm for leveraging technology to propel businesses forward.
Conclusion: Brno as a Beacon of Innovation
As the 10th ABSL Annual Conference concluded, it left a lasting impression on attendees, reaffirming Brno's status as a beacon of innovation in the realm of business services and technology. The event not only showcased the city's potential but also ignited a collective vision for a future where Brno continues to lead the way in shaping the business landscape through technological innovation.
The 10th ABSL Annual Conference in Brno served as a testament to the city's commitment to fostering growth, collaboration, and innovation—a legacy that will undoubtedly shape the future of business in the region and beyond.